✅ EUDR compliance made easy. Learn more →
Agri-data management. Tailored to your needs
Smallholdr is a customised mobile app and web-based platform for collecting and analysing data, managing field teams and tracking produce in smallholder supply chains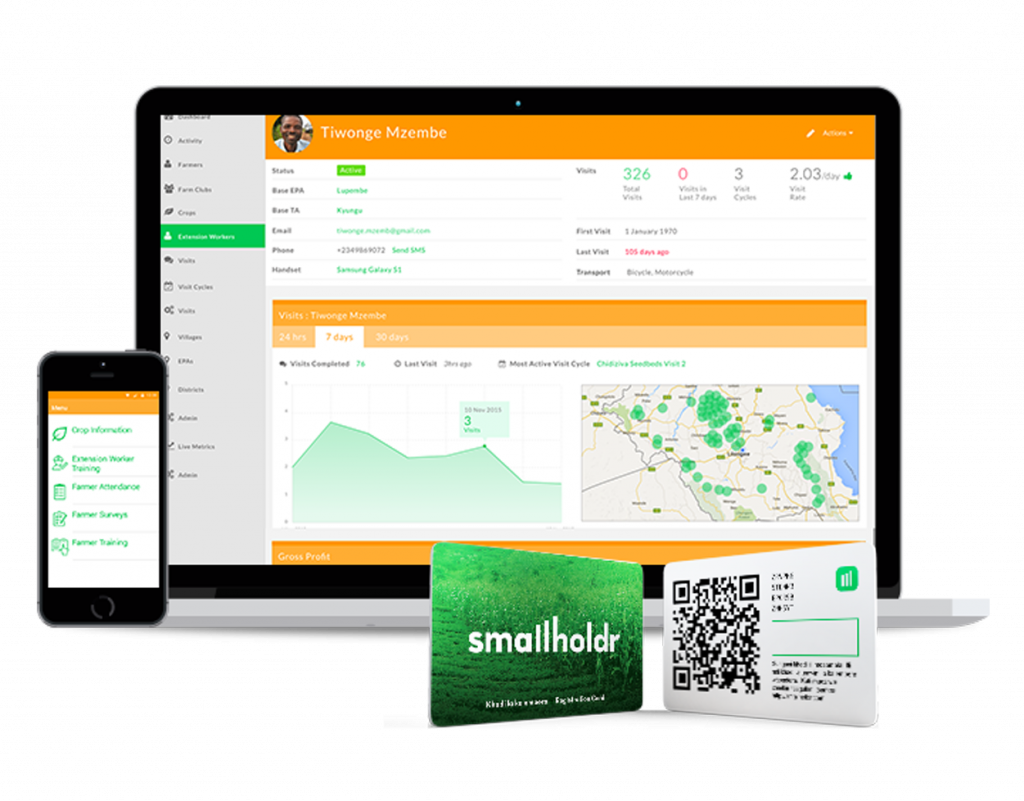 Smallholder data management for agribusiness
Smallholdr is an efficient and cost-effective way to capture and manage data on smallholder farmers, outgrower schemes and agricultural business processes using our mobile app and cloud-based platform.
Our approach is to work closely with our clients to develop bespoke versions of our system which fully meet their needs – from input retailers to honey processors or seed multipliers.
Agribusinesses
Real-time information reduces costs and increases accuracy of production or sales planning
Farmers
Organisations can build closer relationships and tailor extension advice to individual farmers
NGOs
Detailed records of smallholder interventions provide highly informative M&E data
Farmer Identity Solutions
how it works
Collect data on the ground.
Analyse data in the cloud.
Smallholdr is a customised mobile app and web-based platform for collecting and analysing data, managing field teams and tracking produce in smallholder supply chains
Mobile App
The Smallholdr App has been designed to work in rural environments to make data collection as easy and efficient as possible.
Capture data on farmers, plots, crops, yields, quality, volumes, locations, transactions and more
App works online and offline
All functions delivered through our one user-friendly app
Works on any Android device
Measure fields with built-in perimeter mapping
Embedded calculations
Loan and payment management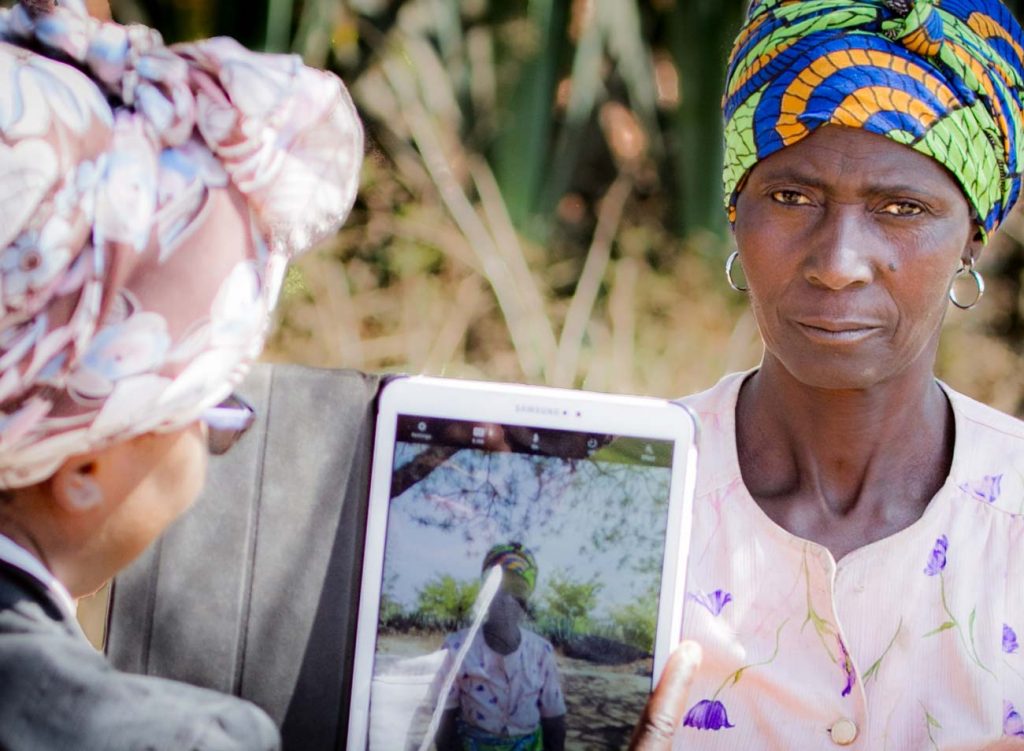 Works offline
Collect data with no network
Easy to use
User friendly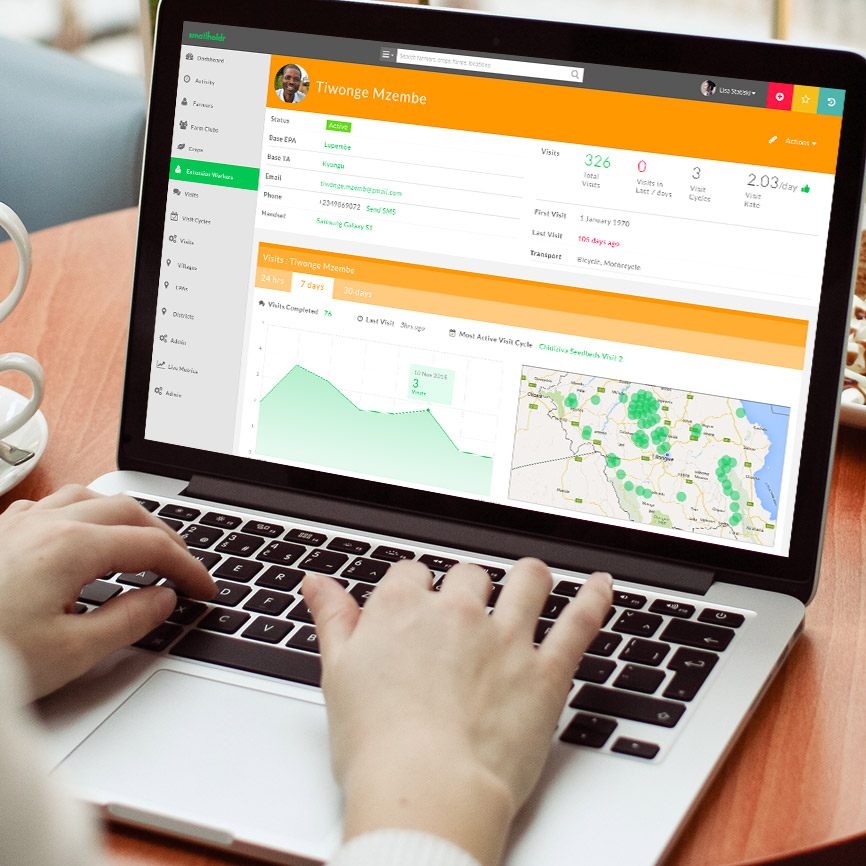 Real-time stats
Instant analytics
Cloud based SaaS
Global access from any device
Web Dashboard
Smallholdr Dashboards are accessible from anywhere; they are web-based, responsive and customised to your needs. Different users access different Dashboards according to their needs and access permissions.
Real-time information
Ability to manage large datasets
Role-based user access control
Historical record of all entries maintained
All data securely stored in the cloud
Data export & import functionality
Interoperability – API and other integrations available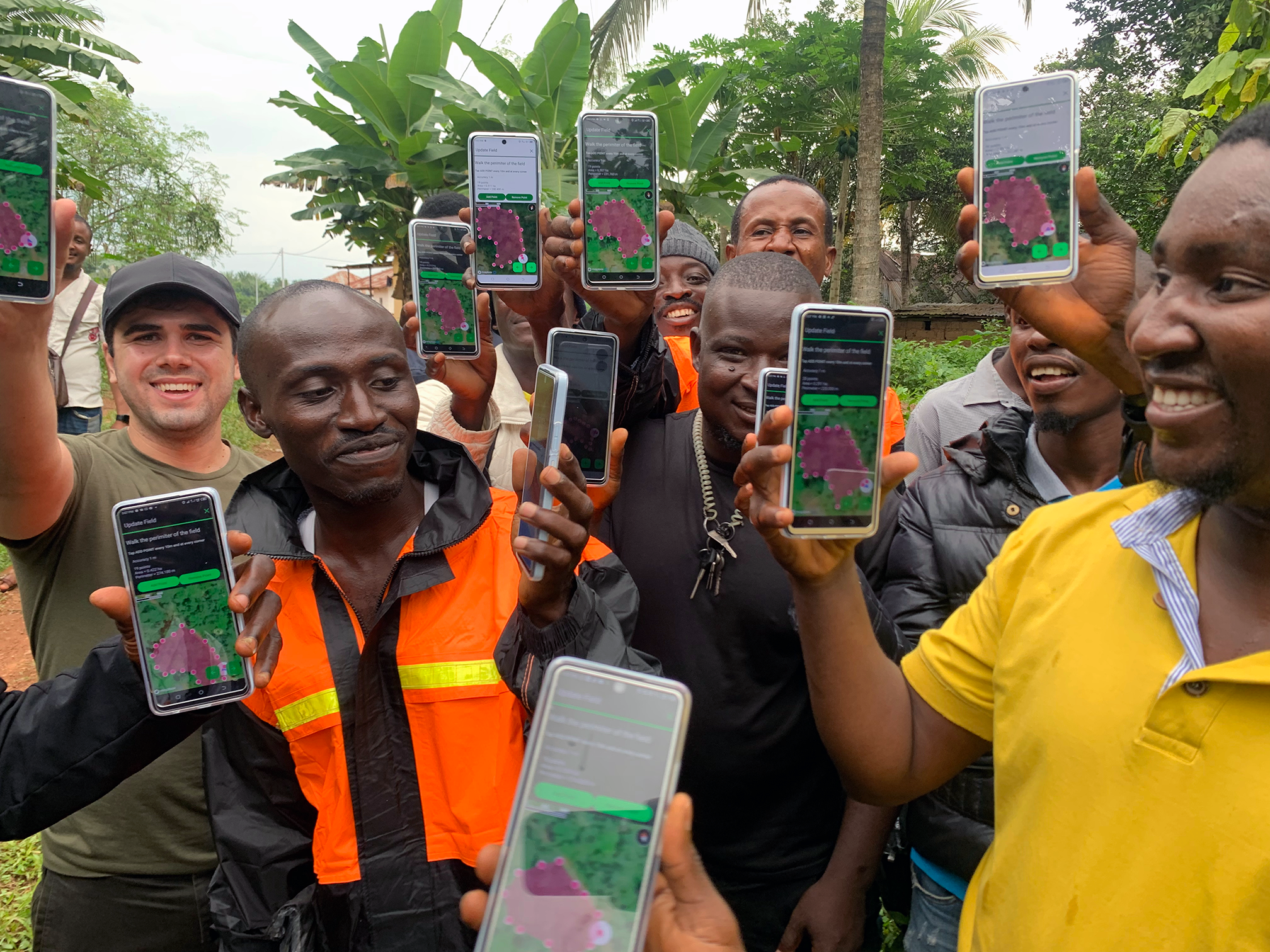 AnTi-Deforestation & Traceability solutions
EUDR Ready?
With Smallholdr's built-in offline perimeter mapping, ability to track changes to plots over time and farm-to-fork traceability features, EU Anti-Deforestation Regulation compliance is made easy.
WHY Choose SMALLHOLDR
Commercial & Development Advantages
Smallholdr provides opportunities for cost efficiencies and compliance for private sector, NGOs, cooperatives and the smallholder farmers with whom they work
Commercial Benefits
Smallholdr improves business performance by reducing costs and enabling better decision-making and planning. Our software enables efficient management of field workers so that extension work can be directed as required. Real-time data saves time and money for procurement and logistics planning.
It helps agribusinesses to engage profitably with smallholder farmers, and NGOs to deliver cost-effective agronomic support.
Reduce costs
Manage field team
Procurement
Real-time insights
Logistics
Full transparency
Reduce costs
All the features
Transparency
Througout the value chain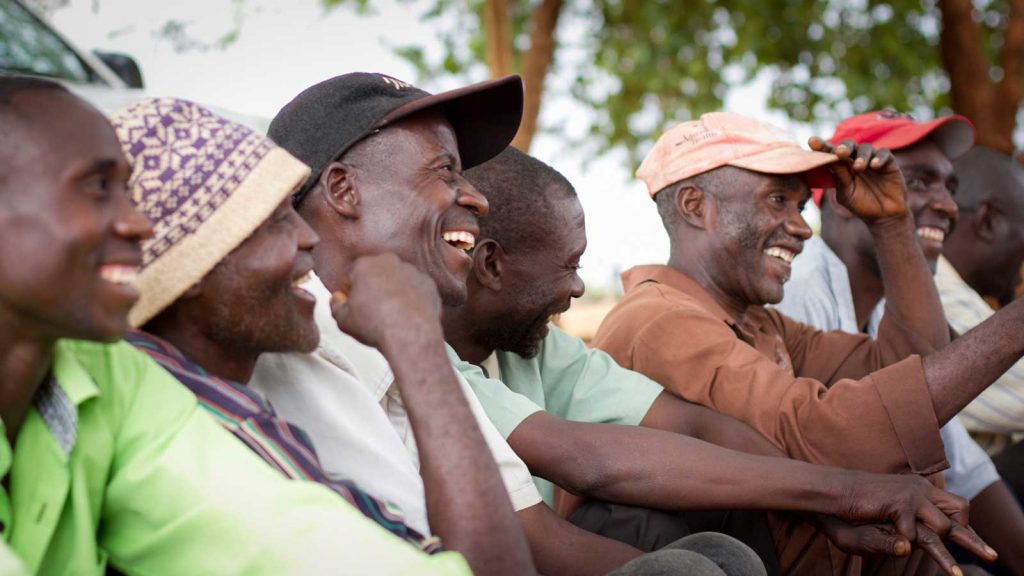 Improve livelihoods
Measure farmer impact
Access to finance
Farmer credit histories
Development Benefits
Smallholdr increases opportunities for farmers to improve yields and incomes and to gain more secure access to markets.
It can provide smallholders with credit histories for the first time, and allow them to access finance for their businesses
Increase yeilds
Improve farmer livelihoods
Farmer credit history
Input distribution
Key Features
Smallholdr delivers compliance, traceability, and real-time data insights for smallholder value chains. Engage farmers, reduce costs, foster growth, and ensure sustainable success.
Customisable
Smallholdr is tailored to your exact needs. Mobile app in your local language. Database customised to model your real world.
Farm-to-fork Traceability
Capture the origin and quality description of produce and trace the digital footprint throughout your value chain.
Field Team Management
Monitor field worker performance (and location) from the dashboard. Extension workers view current tasks.
Real-time Analytics
Make data-driven decisions with real-time visualisation of all data coming in from the field to the dashboard.
Cloud-based SaaS
Smallholdr is a fully supported Software as a Service product with secure cloud data storage. No need to hire developers and coders.
Offline Data Collection
Extension workers can collect and access key information to help them do their jobs even if they are offline.
Perimeter Mapping
Built-in offline perimeter mapping tool enables field team to map accurate, error-free measurements of plots, farms, fields
Integration Ready
Interoperability made easy. API and other integrations with finance, GPS, statistics and other platforms are available.
Certification Made Easy
Smallholdr enables full compliance with Fair Trade, Organic Certification, EUDR, Carbon Credits and more.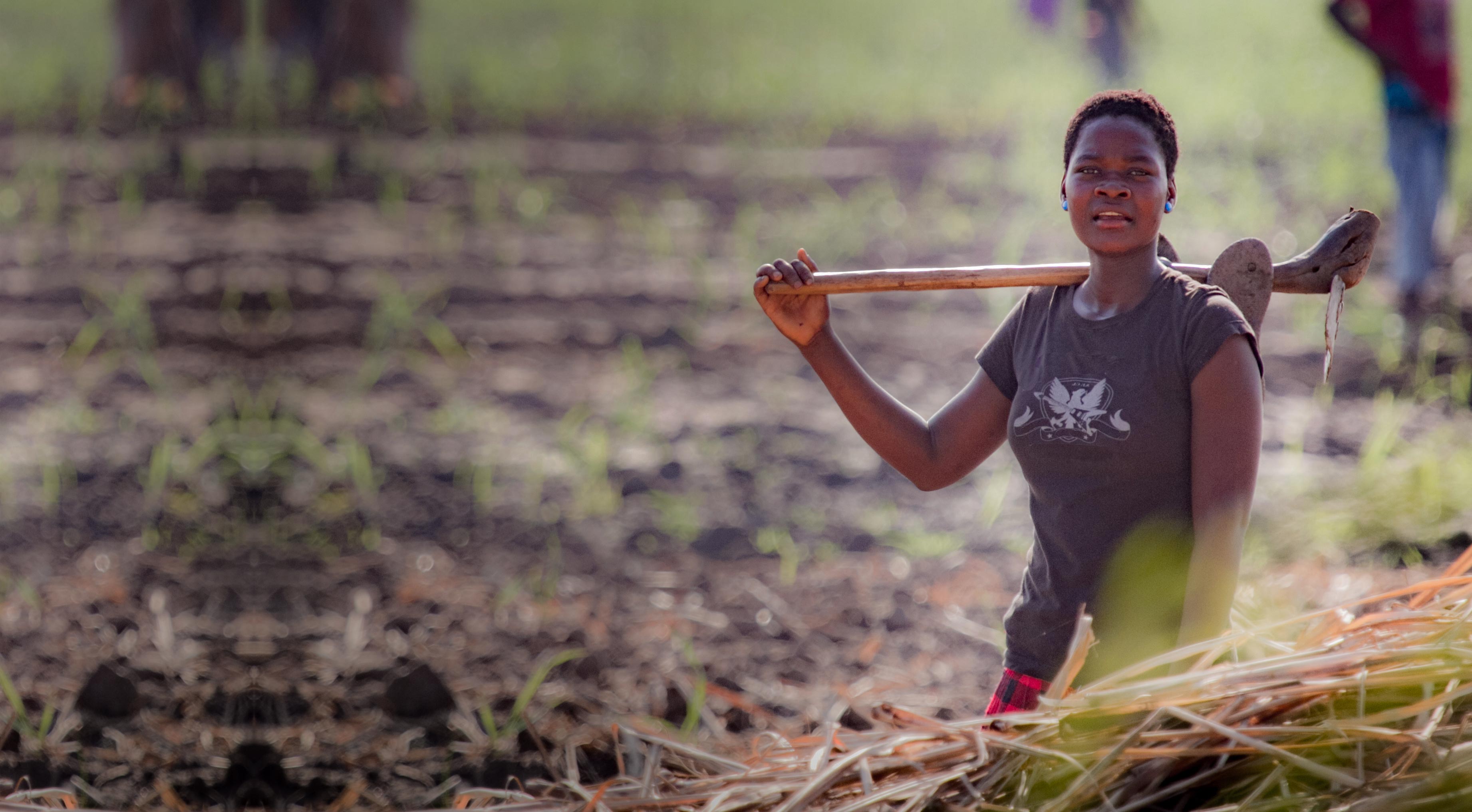 Get Started
Make better decisions based on better data
Isn't it time that you moved on from pens & paper, one-off surveys and Excel, and invested in a technology solution that can truly harness the data that your organisation needs?
News & Case Studies
Multi-skilled agents in Zambia, digitised by Smallholdr, deliver health and nutrition products, collect socio-economic data and provide a market for beans to 'last-mile' communities.…

As COVID-19 takes hold in Africa we are concerned about the impact it will have on our clients, the small farmers that they work…

Call me old fashioned, but I firmly believe that the best way to support small farmers is through field officers. These staff are the…
Experience the power of Smallholdr firsthand.
Get in touch to learn more about how Smallholdr is transforming smallholder farmer and contract farming value chains.
Schedule a personalised demo now.